Lafleur offers you four fun beverage ideas perfect to accompany your BBQ afternoons with the best Lafleur sausages!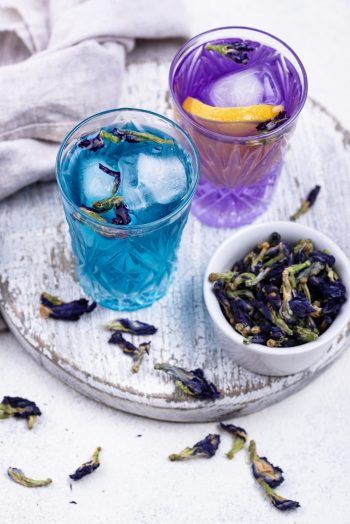 Ingredients
2 ½ cups water
½ cup lemon juice
½ cup sugar
¼ cup blue pea flowers
Lots of ice
Instructions
In a pot, combine 1½ cups water with the sugar and pea flowers. Bring to a boil, remove from heat and let steep for 10 minutes. Strain the mixture and let cool in a bowl.
In another bowl, combine 1 cup of water with the lemon juice.
Place ice in a glass. Fill half the glass with the blue pea flower mixture.
Fill the other half with the lemon juice mixture and let the magic begin! The drink will turn from blue to purple!
Tip: Blue pea flowers can be bought on Amazon, from David's Tea and in natural food stores.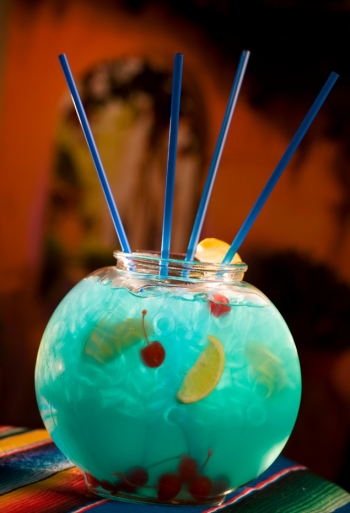 Ingredients
A large aquarium-style bowl
Lots of ice
2 boxes multicolored Nerds
2 litres 7Up
Blue food colouring
A bag of candy sharks
A bag of candy goldfish
Instructions
In a large bowl, pour the two boxes of Nerds to make the sand on the bottom.
Fill bowl with ice adding the candy sharks and goldfish along the sides of the bowl as much as possible so they're visible.
Add a few drops of blue food colouring in the bottle of 7Up. Stir gently.
Pour 7Up into bowl. Ladle into glasses to serve.
Enjoy your ocean-inspired beverage!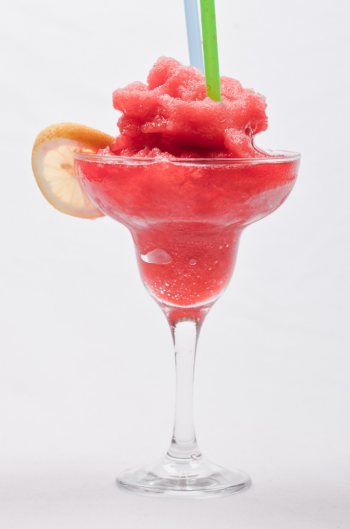 Ingredients
 2 cups ice
½ cup water
½ cup daiquiri mix
Instructions
Blend all ingredients in a blender. You may have to adjust the quantities depending on the strength of the blender.
Serve in a daiquiri glass.
Want to add a funky twist to your strawberry slush? Make a fizzy garnish for the glass! Follow the same steps as for rimming a glass for a margarita, but use pop rocks and honey instead!
Fizzy glass rim
Ingredients
Honey
Pop rocks (candy dust that explodes in your mouth)
Instructions
Make a circle of honey on a plate.
Add pop rocks around the honey.
Turn the rim of your glass into the mixture.
Tip: Strawberry daiquiri mix is found in most grocery and dollar stores.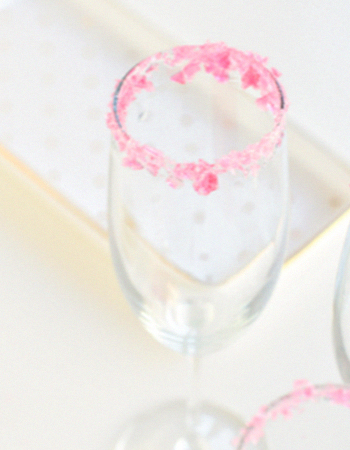 Garniture pétillante pour le verre
Ingrédients
Miel
Pop rocks, bonbons pétillants dans la bouche
Instructions
Faire un cercle de miel dans une assiette.
Ajouter des pop rocks sur le contour de miel.
Faites tourner le rebord de votre verre sur l'assiette.
Astuce : Le mélange à daiquiri aux fraises se retrouve dans la majorité des épiceries et des Dollorama.
On a large table, place all the ingredients in bowls so each person can customize their own Bloody Caesar! We offer you a list of ingredients above, but feel free to add others!
Ingredients:
Celery salt
Vodka
Clamato cocktail
Worcestershire sauce
Tabasco sauce
Celery stalks
Lime slices
Lemon slices
Cucumber slice
Chunks of sausage on a skewer
Twisty bacon slices
How to make twisted bacon pieces?
Roll a piece of raw bacon on itself and place it on a baking sheet.
Cook the bacon.